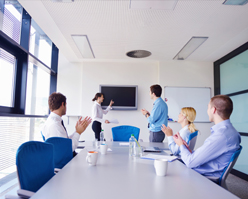 Our Services
Waterloo Manufacturing Software technical consultants and consulting partners provide a number of pre-sale and post-sale services for TACTIC. These services are meant to help you both asses the technology and to get ever-increasing value from its use.
Pre-sale Services
Pre-sale Services help you assess the benefits and risks of Advanced Planning and Scheduling technology before purchase.
They include:
Seminars – to introduce your management team to the concepts of Advanced Planning and Scheduling
Workshops – to show your management team the use and benefit of TACTIC using your sample data while
addressing your business problems
Post-sale Services
Post-sale support services help ensure you achieve continuing value from TACTIC after purchase.
They include:
Consulting Services – delivered on-site or remotely, assist implementing and expanding the use of TACTIC
Product Training – hands-on training for new and experienced users
Telephone Support – immediate answers to specific feature, application, and implementation questions
Remote Support – uses on-line software collaboration tools to demonstrate the use of specific features and
to deliver Consulting Services
Enhancements – upgrades to the software to include new and expanded features