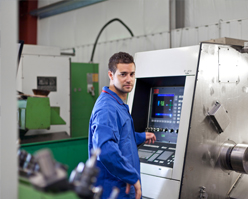 TACTIC Production Scheduling Software Overview
Greater competitive pressures and manufacturing complexity are increasing the burden on management teams. You are forced to balance conflicting demands to win new business and keep existing business. You must:
Offer more products and options
Provide shorter lead-times and smaller lots
Ensure ever-higher levels of on-time delivery
Perform without excessive inventory
Execute while lowering costs
Produce without too much of the wrong capacity
As the pace of competitive demands continues to increase, many management teams are finding methods that once worked becoming increasingly unwieldy and less effective.
Maybe TACTIC Scheduling Software for Production Can Help?
Management teams are increasingly turning to the TACTIC Production Scheduling system for help. TACTIC explicitly and simultaneously considers your limited capacity and material as you promise delivery, plan production, material, and capacity, and deal with changes and problems. TACTIC projects the realistic effect on delivery, utilization, inventory, revenue, costs and profits of new orders, order changes, material problems, production problems, vendor problems and business changes. TACTIC scheduling software provides you with the Big Picture view of each of your schedules, AND the essential details that need to be managed or adjusted for success.
TACTIC Features
TACTIC possesses sophisticated "what-if" features. These features let you quickly combine formal data (e.g., orders, routings, inventory, bills-of-material, and capacity limits) and intuition (i.e., what-if ideas). TACTIC allows you to select the best what-if ideas to continuously balance what's good for business with what's good for customers, as changes and problems with increasingly complex tradeoffs occur. TACTIC's what-if features provide significant visibility and flexibility improvements over reports, staff meetings, wallboards, and spreadsheets commonly used to project, simulate, and fix problems and changes.
TACTIC Production Software Configuration
You can configure TACTIC in two ways. You can use TACTIC stand-alone for planning, order promising, scheduling, and capacity management. Or you can integrate TACTIC with your business system. TACTIC production scheduling enables you to better use your valuable business system data to overcome the planning and scheduling limitations inherent in business systems.
TACTIC Production Scheduling Benefits and ROI
Many management teams have found that adding TACTIC saved them the cost, time, and disruption of replacing their business system to improve competitiveness. In many cases, it helped them boost the return from their business systems investment as well. They used their business system data, TACTIC's sophisticated what-if features, and the improved visibility and flexibility provided by Waterloo's production scheduling software to develop plans that simultaneously:
Increase sales revenues
Lower manufacturing costs
Tie-up less capital in their businesses
Check-out our Case Studies here to learn how real companies have used TACTIC software to reduce schedule generation time, develop lean manufacturing processes, increase throughput, improve customer service, and boost profits.
Ready to learn more or to see TACTIC in-action? Please complete the short form here to schedule a free demo and see what production scheduling software can do for your operations.